Hot Sale Cryotherapy Fat Freezing Machine with Cavitation and RF Handle
Product Description
1.Cellulite reduction,skin tightening
2.2 freeze handles working at the same time.
3.4 handles:fat freeze, cavitation, RF, diode laser
Product Description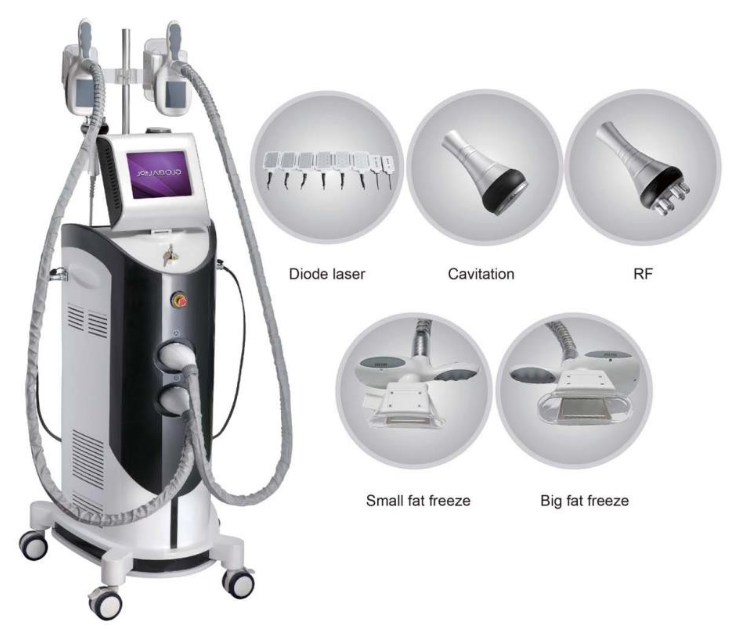 Product Advantage
Fat freeze+Vacuum+Cavitation+RF+Diode Laser: The treatment result will be more visible, while combine with fat freeze treatment and ultrasonic cavitation.
1). Cryo
Cryo is a non-invasive (without contact) procedure in which doctors place a small suction cup on a patient's skin. The device gradually extracts body heat until the subcutaneous fat is frozen.
2). Cavitation
Ultrasonic vibration may cause flerce impact of fat cells to make them be exploded instantaneously,reduce the amount of cells and thereby achieve the effects of removing fat.
3). RF
RF can deep direct fat body, has the directional positioning RF output excellence, make fat cells organizations in fast active state, produce the cell body heat of the friction heat, in order to achievethe effect of disolved fat
4). Diode laser
The lipolysis diode laseropen and release glycerol, water and free fatty acids, thus, causing to lose weight and inches.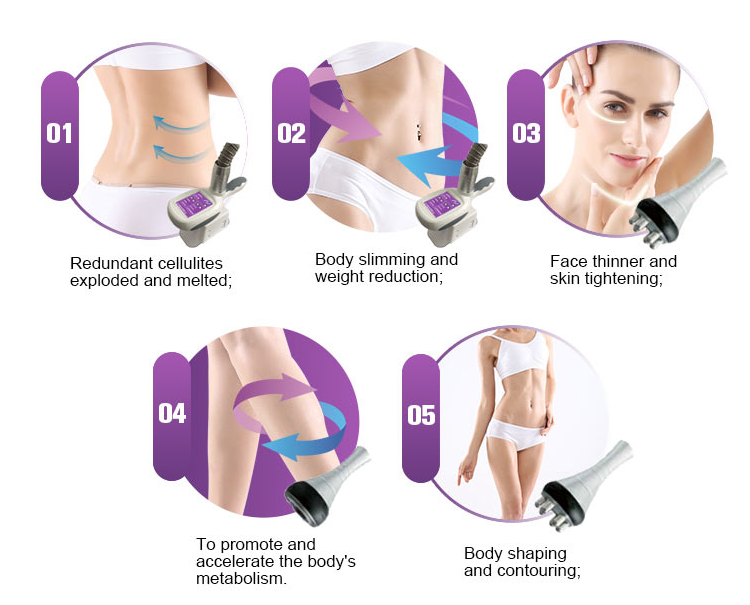 Frozen fat dissolving treatments and efficacy:
Treatment time,15-45 minutes for each treatment

Each customer usually do four points on the abdomen,left and right twice;

A course of 45 days,20 days,a course a point not more than twice;Frozen weight loss temperature setting 3-5 degrees.

The frozen lose weight,cold temperature is set at 5 degrees between the strength of the RF thermal 10-14,the heat is determined according to different customers',stop plus temperature when suitable and stops the hot and cold system.

The treatment efficacy,a month before there will be a significant effect,and also feel more and more thin.
Feature & Application
Feature

1. Suitable treatments :All types of skin
2. 2 fat freeze handles can work together or independantly.
3. 8.4'' LCD touch screen, beautiful and easy operation.
4. Japanese top-level cooling plate, ensure steady cooling, good effect, long life time.
5. 24 hours consistent working.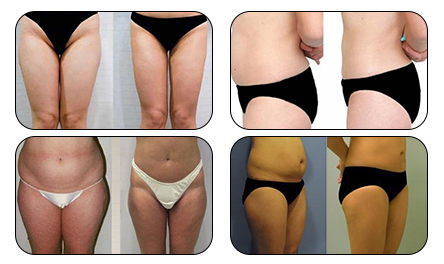 Application
1) Redundant cellulites exploded and melted;
2) Body slimming and weight reduction;
3) Face thinner and skin tightening;
4) Body shaping and contouring;
5) To promote and accelerate the body's metabolism.