3 in 1 Multifunctional SHR/YAG Pico/RF Laser Beauty Machine
Description
1.Super hair removal \ skin rejuvenation \ wrinkle removal
2.The screen can be folded up and down ,rotate 180º left and right
3.One machine has three handpieces :Spot size 15*50mm2 \ 12*30mm2 \ 8*15mm2
4. SHR: fast and effective hair removal on all body parts , no pain , no downtime
5. SSR: skin rejuvenation , vascular therapy , pigment treatment , breast liftup assistant , etc .
6.10 shots in 1s, faster for hair removal
7. SHR lamp from USA, longer lifetime, at least 1, 000, 000 shots.
8.4000W big power supply
9. Multi-language menu suitable for different operators
10. Various settings for different skin types, more professional and convenience
11. Pain-free, more comfortable.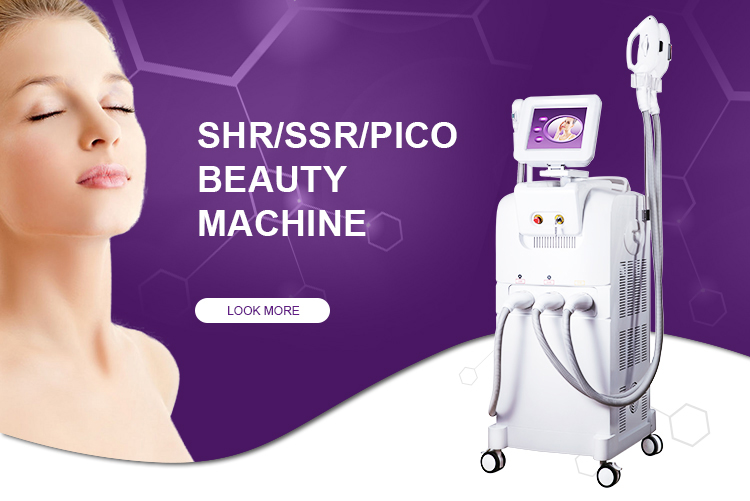 WHY CHOOSE 4 in 1 SYSTEMS ?

Multifunctional Workstation is a comprehensive and efficient facial care system, which is also a multifunctional beauty equipment having a collection of four top core technologies in medical cosmetology, namely, SHR, E-light, RF and Pico laser.
Combining a variety of powers and giving full play to light energy, bipolar RF and laser, it has a significant clinical effect and has been proved to safely and effectively apply to different skin types and skin complexion.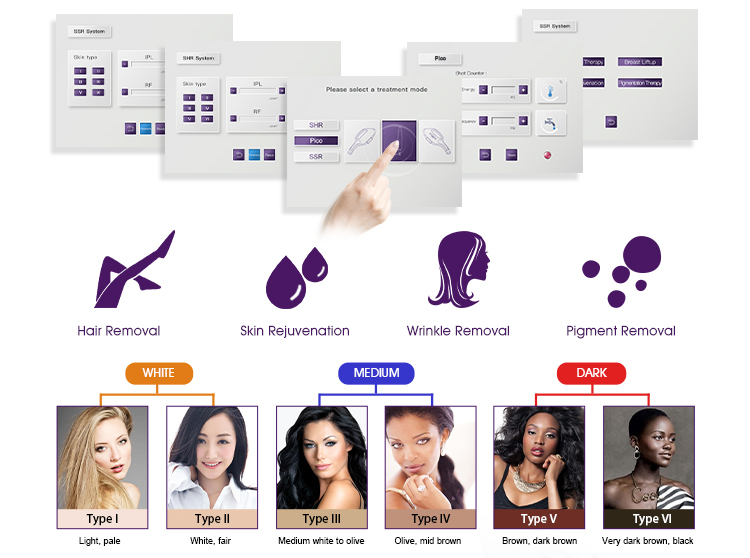 Advantage

Three different spot size handpieces, suitable for different parts of body treatment, more convenient

Handpiece 1: Filter changeable handpiece with 12X30mm2 spot size, special for facial or small parts treatments
Handpiece 2: Filter fixed handpiece with 15X50 mm2 large spot size for leg, back and large area hair removal treatment
Handpiece 3: Filter fixed handpiece with 8X15mm2, special for armpit, and bikini hair removal
1. The screen can be folded up and down, rotate 180ºleft and right. Flexible screen is easier to operation.
2. Integrated water and electricity plug-play connector, safety and stability
1). USA CPC Water Connector & Germany Harting Electronic Connector.
2). Humanized bending design, maximum protect inner cable from vertical fold, and for better cooling
3. The state-of-the Art Filters
1. ) The elegant white cap facilitates insert, and protect from scald.
2. ) Imported filter film, anti-stripping, ensure wavelength perfectly and consistently, ensure best effect
3. ) The metal frame is produced by molding, hence, conformance and harmony
4. Water temperature and water flow alarm system, keep machine from unexpected damage
5. True sapphire-high transmittance and high energy output, less energy loss, better effect
6. Imported Japan semiconductor chilling plate, quick cooling, longer lifetime, high efficient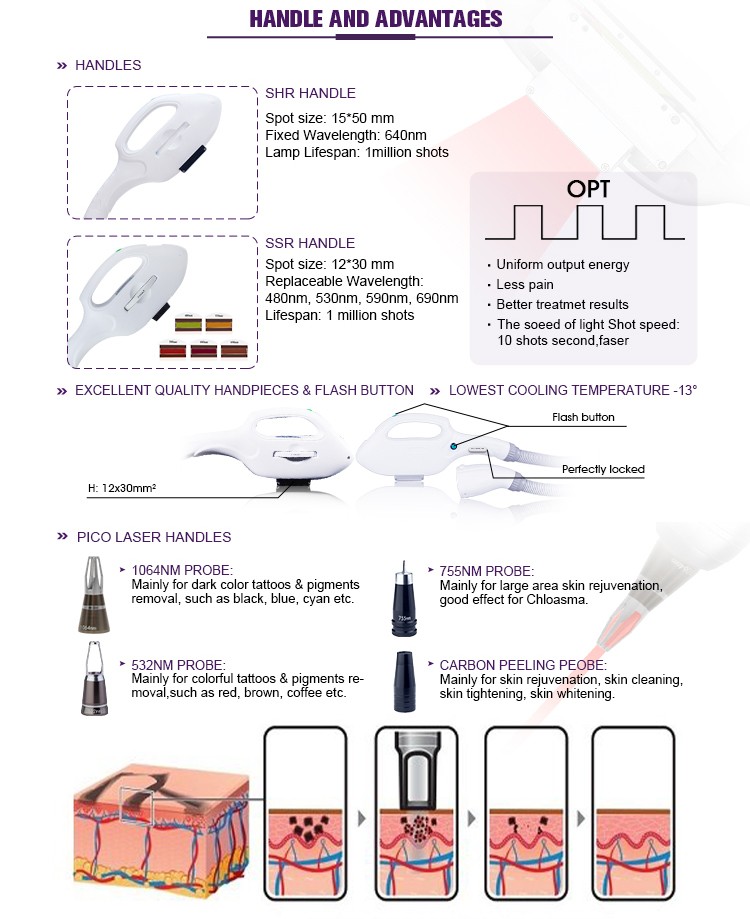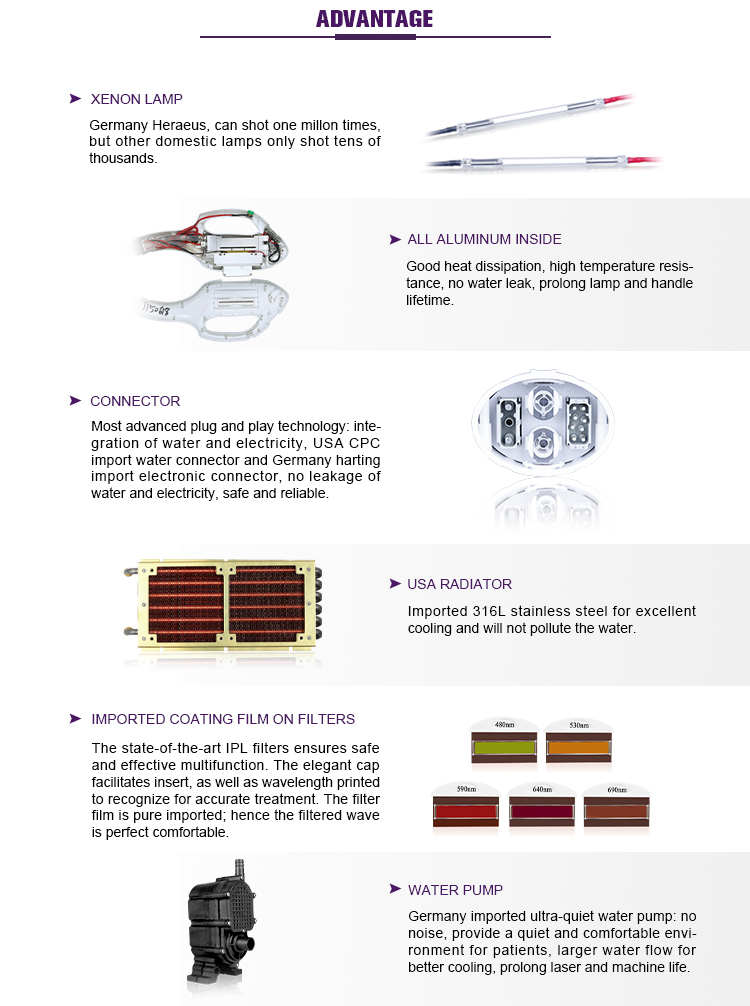 Application